---
4 MIN READ
Linking Customer Education to Product Use and Adoption
We spend a lot of time talking with customer education professionals about how to demonstrate the value of training. There are many ways to do it, but we focus on linking training activity to customer outcomes. Training activity and customer outcomes are terms that could mean all kinds of things. Clearly defining each term might be the biggest challenge in undergoing a project to link training to outcomes, precisely because there are so many ways to define training activity and customer outcomes.
In an attempt to make this process a bit more clear, we ran a webinar in late October. In it, we showed three examples of how to more clearly define "training activity" and "customer outcomes." Then we showed examples of how to use the LMS and Salesforce to link the two together. After all, training activity data is stored in the LMS and customer outcome data (some forms of it, anyway) are stored in Salesforce.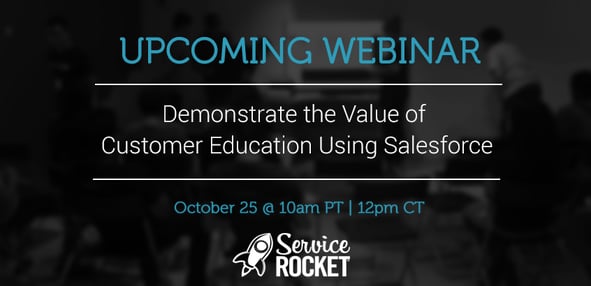 We started by defining training activity as the number of enrollments. Then, we defined customer outcomes as number of renewals. This allowed us to show clear examples of how you can link training to outcomes. The webinar was well received. So well, that we are thinking of follow-on topics for future webinars to continue the conversation.
During the process of researching topics for future webinars, I came across a report that has been sitting on my desktop, unread for far too long. The Technology Services Industry Association (TSIA) published a report titled, Education Services Adoption Playbook: Nine Plays to Help Drive Adoption written by Maria Manning-Chapman, the VP of Research at TSIA. This report, which you should download and read, lays out a playbook for linking your customer education programs with product adoption, which is exactly what I talked about at the beginning of this blog post. It Chapman's playbook, she describes a complete process for thinking about and setting the project so you can link your customer education programs with product adoption.
Imagine how good you'd be if you could show that link to your executive team.
You should definitely read the report. And to tease you a bit, here are the nine plays with Chapman describes in detail in her report.
Ask questions
Monitor education consumption
Report consumption of education
Hire a data analyst
Use subscription to drive adoption
Measure adoption rate
Leverage free-to-fee continuum
Build a customer success team
Overlay product, learning, and adoption life cycles
In this post, I will talk about the first two plays as they are relevant to the webinar we ran, and there are a few points I want to make.
Play #1: Ask questions
Any successful research project begins with asking the right question. Only the right question will lead you to find the right answer. In the case of linking training to product adoption, Chapman suggests asking three questions:
Is the product being used?
Could more of the product be used?
Could the product be used better?
Answers to these questions will allow you to focus your project on answering the right question. You could find out the answer to these product use questions in three ways: 1) ask your customers, 2) use log files and dashboards built into your product, or 3) use a product like Keen IO. However you do it, if adoption is the outcome you want to address with training, you need to know what the current use is.
Play #2: Monitor education consumption
Once you have product use data, you then must collect the "training activity" data or, as Chapman describes it better, "education consumption." The trick is to clearly define "education consumption." Will you look at enrollments? Registrations? Attendance? Completion? Will you include paid training? Free training? ILT? eLearning? Both?
This is where having a good research question matters.
Look at the following two questions:
What is the relationship between free training and product adoption?
What is the relationship between paid training and product adoption?
Depending on which question you ask, will steer you to collect different data on education consumption. So be clear in your questions.
Putting it all together
Once you have the right question and the data from education consumption and product usage, you need to put them together to find out what impact training is having on product use. This is where Chapman's Play #4: Hiring a data analyst, comes into play. Someone who is good at business intelligence, can take these two data points and find out the link between the two, if there is any. They can also help you define other ways to link training with adoption.
This just scratches the surface of how to link education to adoption. This is why Chapman wrote her report. If you want to put a plan in place to demonstrate the value of your education offerings to customer adoption, you should definitely download her report and apply the nine plays.
I find it clarifying and useful.
I believe you will too.
---
Speaking of demonstrating the value of customer education, as I mentioned at the beginning of this blog post, we ran a webinar called, Demonstrating the Value of Customer Education Using Salesforce. If you read the TSIA report and watch the webinar, you will be well on your way to setting up your project to link your education services to customer outcomes.
Originally published Nov 2, 2016 12:04:18 AM, updated Nov 2, 2016