---
4 MIN READ
3 Scalable Customer Education Methods of Enterprise Software Companies
One of the questions I get asked most by early stage enterprise software companies that begin to train customers is how to build scalable customer education programs. I even get this question on open forums. The trouble with this question is that the answer is always, "It depends." Although there are several ways to deliver scalable customer education, not each method will work for each company depending on maturity level of that organization. It is important, therefore, to understand various ways to deliver scalable training to customers, so you can make decisions about which method will work for you and your customers.
In this post, I discuss three scalable training delivery methods and share examples of software companies that are executing them.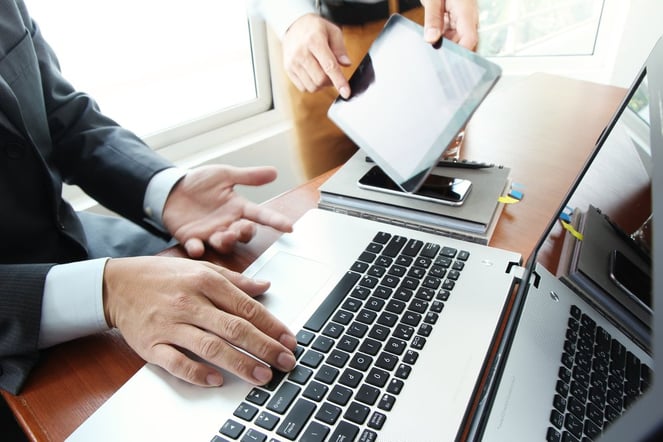 Self-paced eLearning
The most scalable way to deliver training is with self-paced, on-demand eLearning. The marginal cost of delivering eLearning is almost zero, so it does not matter how many customers consume your eLearning courses. The cost to deliver eLearning to one customer or one thousand customers is just about the same.
Among all the benefits of eLearning, there is one potential downside to eLearning—it takes a lot of upfront work. In some cases, weeks or months could go by without publishing much eLearning, and by then software has changed so much that the eLearning courses need updating. Though eLearning may seem like it's the most scalable solution, consider the tradeoffs and appreciate the effort and commitment it will take to develop and maintain self-paced eLearning.
Of course, self-paced eLearning can be quite effective at delivering customer education at scale. Companies like Couchbase, Chef, Docker, and SugarCRM offer self-paced eLearning on their websites in various formats. But in most cases, these companies started with live training and offer a mix of both live and self-paced learning experiences.
MOOC-style Delivery
Another scalable way to deliver training to your customers is with MOOCs. A MOOC is a Massive Open Online Course (MOOC), popularized by services like Coursera, Udemy, EdX, and Udacity. Learning experiences are growing in popularity and software companies are starting to take notice. Not only are software companies like Cloudera working with Udacity to offer courses, but others, like MuleSoft, are building their own MOOCs.
If you have not taken a MOOC, here is how they work.
Although MOOCs are self-paced, which means they are not live, there is a start and end date for a course, cohort groups join each session, and the MOOC progresses in one week segments over a specific number of weeks (6 weeks for example). Each week a topic is covered, lectures are delivered (by text context or even video), discussions occur, and in some cases, customers will complete an assignment and turn it in. At the end of the session, the course is over. Then, the MOOC starts over with new students, in a new cohort group starting at a future date.
A course like this can be repeated over and over with an almost unlimited number of learners joining each course.
There are several advantages to a MOOC-style system of eLearning delivery:
Students can join new courses repeatedly.
Content is spaced out over time.
The course can handle a virtually unlimited number of students.
The course has a start date, an end date, and a weekly deadline for each topic creating a sense of urgency that inspires customers to sign, keep up, and complete the course.
As mentioned above, MuleSoft created its own MOOC. MuleSoft Development Fundamentals is free to anyone and occurs in eight weekly segments that requires about three hours of course time per week. Start dates for courses are scheduled once per month. If a customer misses a start date, they can simply register for the next one.
Fast-growing software companies should be noticing the untapped potential of MOOCs to deliver customer education at massive scales.
Blended Approach
Blended learning is all the rage, built on the popularity of the flipped classroom model. In a blended learning approach, you could set up self-paced eLearning to demonstrate or otherwise explain the concept you want people to learn. Then, in a live portion, you invite customers to join a live course (like GoToTraining) where people join and spend that live time with an instructor on practical activities or getting their questions answered. This is a way to spend valuable time with an instructor on valuable activities of getting hands-on practice.
HubSpot takes this approach with customer education. Customers watch videos that explain certain topics about using HubSpot features. Then, customers sign up for live, virtual instructor-led training sessions, which are scheduled roughly every two weeks. During these sessions, the time is spent with peers and the instructors working on practical examples. If the course is about how to write an effective blog, the video would explain the principles of a good blog post. Then the live virtual ILT course spends time reviewing examples of blog posts that cover the principles of a good blog post. Students apply what they learned in the video to critique blog posts, which could include their own posts.
Blended learning is an excellent approach that has the benefits of both scalable eLearning and time with a live instructor.
As you can see, there are many ways to deliver scalable training to your customers, and there is no "best" approach. The key is selecting a method that addresses what you aim to accomplish and what your customers need.
---
No matter what delivery method you choose, you need a scalable and repeatable process for developing training content. We wrote an eBook to help you with the development process. The book is called Ad Hoc Hell: A ServiceRocket Guide to Developing Your First Software Training Course. The development process in this book will help you become more efficient at developing training content, no matter what delivery method you choose.
Originally published Jun 30, 2016 12:00:00 PM, updated Jun 28, 2016